Housecleaning can feel overwhelming — different rooms; different cleaning tasks that need to be done in each room; different frequencies for the cleaning tasks themselves.  Without some kind of organization, it can be stressful enough to avoid as long as possible.  But … once we have a clear schedule of what to do when, it turns into a simple list that we can check off daily and know that we've got everything under control.
To make a list work, you need to have some sort of schedule.  And there are probably as many ways to schedule as there are homes.  You may already have figured out what works for you, but if not, here are a few basic ideas to consider.
Whole House Cleaning
With this method, most of the house is cleaned each week.  Here are some common ways you might schedule it on a weekly basis.
Different room(s) each day —
For example, bedrooms on Mondays, living areas on Tuesdays, bathrooms on Wednesdays, and so on.
Different task(s) each day —
For example, Mondays do all vacuuming and dusting, Tuesdays change all bed linens, Wednesdays clean all sinks/toilets/showers, etc.
All at once —
This is not for everyone, but if it suits your schedule and/or lifestyle you could take one big chunk of time and clean the whole house.
Zone Cleaning
With this method, you divide the home into 5 zones.  You then rotate through the zones, focusing on one at a time.  Light general cleaning through the whole house (sweeping floors, tidying up, wiping out sinks, etc.) is done daily to keep things in order.
Weekly Zone Cleaning (think FlyLady) —
Focus on one zone each week.  Break down all the tasks for that area and work on some every day.  This allows you to do a deeper cleaning of each zone in rotation because you concentrate on it for an entire week. 
Keep any or all of our checklists in a binder for easy reference.
Tack the daily and/or weekly cleaning list up in a common area so the whole family can contribute and then check off what they did.


Keep a room-specific cleaning list in each room.


Use our pre-filled lists and add a few tasks of your own.
Use our blank lists to totally customize your schedule. 
Daily, Weekly and Monthly Cleaning Checklists
Our first set of lists show you what needs to be done on a daily, weekly and monthly basis for different parts of your home.  Print them out once to use as a simple reminder, or print multiples and check off the items as you do them.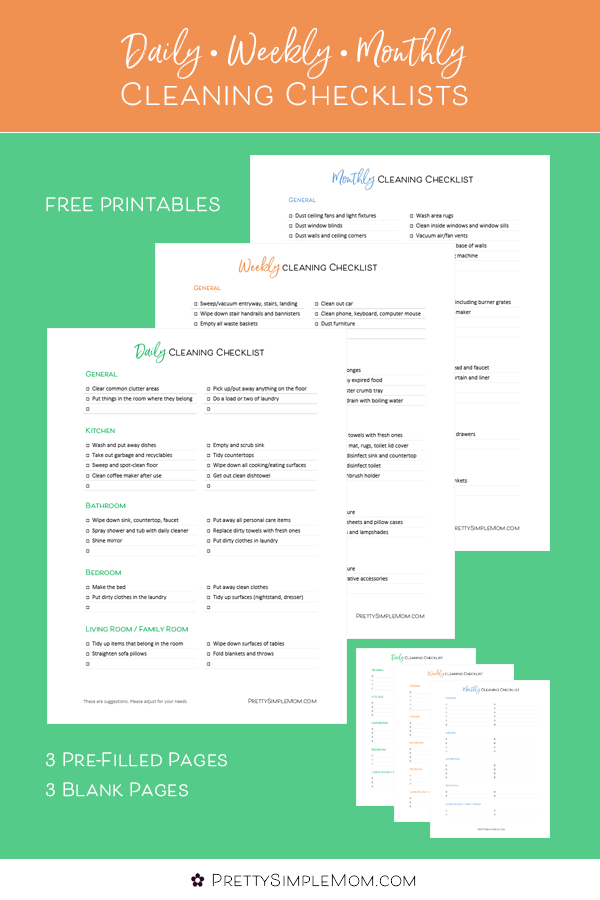 Daily, Weekly and Monthly Cleaning Trackers
Our extended checklists are designed for moms who like a compact way to keep track of what's been done.  There are 14 columns (2 weeks) on the Daily checklist, 13 columns (3 months) on the Weekly checklist, and 12 columns (1 year) on the Monthly checklist.  Print multiples, add dates at the top of the columns, and keep in a handy binder.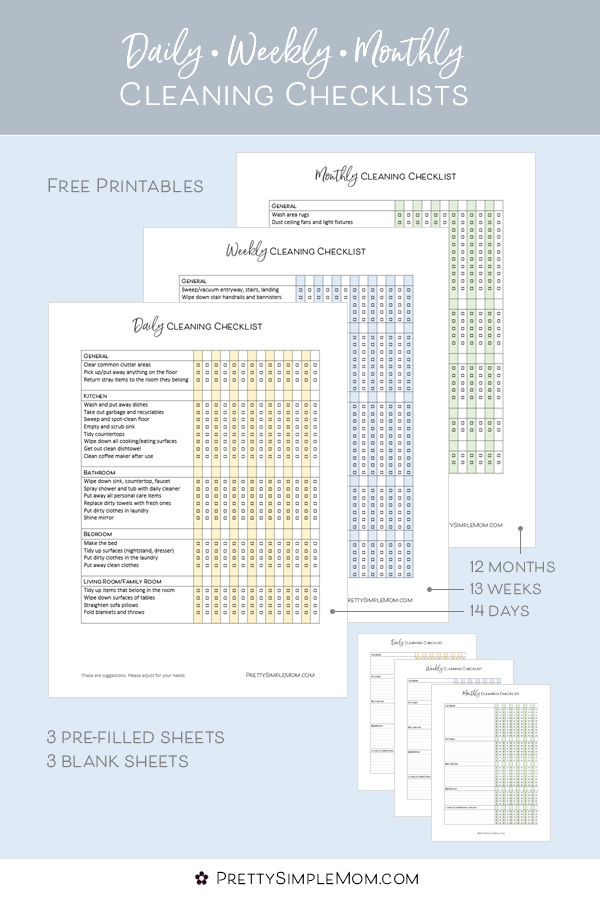 Room-by-Room Cleaning Checklists
Our FREE Printable Room-by-Room Cleaning Checklists includes 8 colorful pages of daily, weekly, and monthly tasks for the Bathroom, Bedroom, Kitchen, and Living Areas.  Plus occasional deep-cleaning tasks that need to be done less often.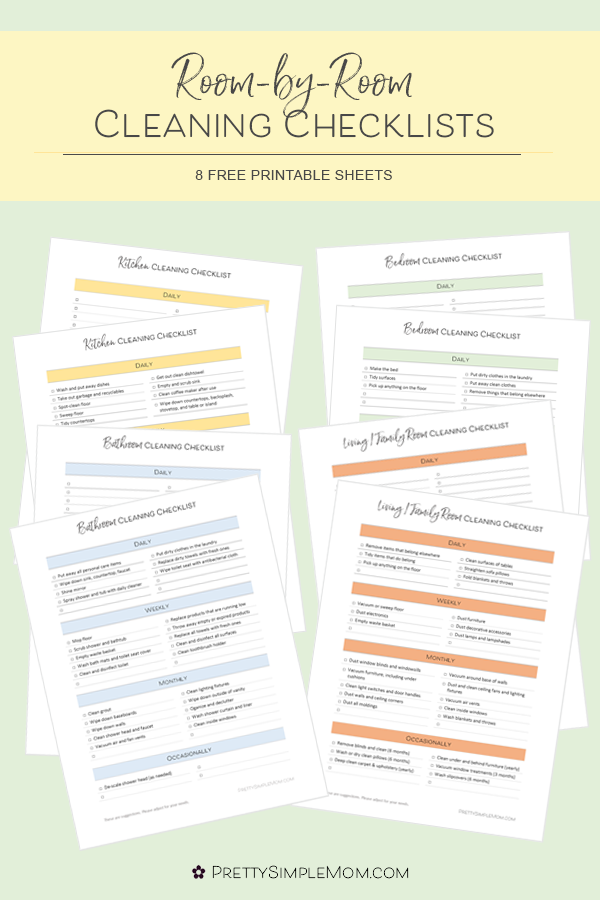 Customize Your Cleaning List
Our lists contain the most common cleaning tasks, but there are plenty more that vary from family to family.  It's helpful to write down all of our tasks, even the obvious ones.  So I've created this list to help you brainstorm additional items that apply to you.
Check the ideas below for items to add to your own cleaning schedule.
Fine China, Glassware & Stemware