Fall brings with it changing weather, new schedules and routines, and a host of activities.  And just about the time you're adjusting, the biggest holidays of the year are on the horizon.   Our Fall Cleaning Checklist will help you keep a clean home even through the busiest times of this wonderful season.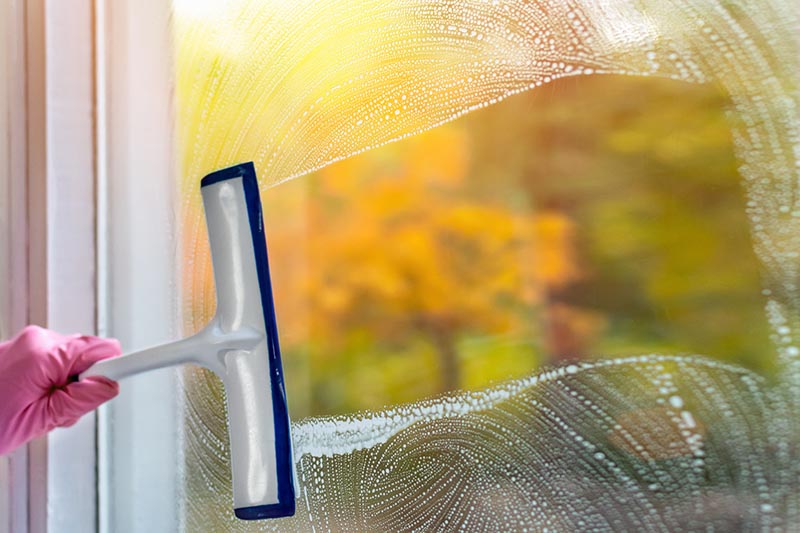 Fall cleaning calls for the same three types of tasks that all  seasons do.  There are basic cleaning tasks that need to be done frequently.  Then deep cleaning tasks that are done less often.  And each season brings it's own special cleaning needs. 
Remember that the goal is to find a balance that works for you. 
Don't stress about getting them all done!  But challenge yourself to do what you can and what will have the most impact on your home.
Fall gets really busy, there's no doubt about that.  And it's an adjustment after a totally different summer schedule. If you were laid back about your house cleaning during the summer, now's the time to get back to a solid routine.  It will help tremendously as you gear up for multiple holidays. The list below covers the basics.    If you want more details, see our selection of house cleaning checklists.
These tasks only need to be done once during the season.  If you'd like to swap in other tasks, check out our deep house cleaning checklist for ideas. 
"Front load" your seasonal tasks as much as possible so they're done before your holiday preparations begin.  
Reduce the allergens that have accumulated in your home.  As your house becomes more closed up for cooler weather, these allergens will be trapped.  One way to do this is to launder fabric items that aren't cleaned very often, like curtains, pillow covers, bed skirts, duvets, and decorative towels.  Another idea is to thoroughly dust your heating vents before turning your heat on for the season.
Identify your holiday needs and plan backwards.  Think about what your holiday plans include and prioritize the cleaning tasks you need to accomplish.  
The fall season is it's own kind of fresh start and is the perfect time to get into a basic cleaning routine if you aren't already.  The basics really don't change much between seasons.  Then add some deep cleaning and seasonal tasks from our list for a clean home to enjoy.
Be sure to check out our Spring Cleaning Checklist, Summer Cleaning Checklist, and Winter Cleaning Checklist for year-round cleaning inspiration.