Do you have to hunt down what you need when you start to clean?  Or have you accumulated too many random cleaning products and only use a few of them?  Getting organized can remove these motivation killers.  Along with good house cleaning checklists, it will make a big difference in how you feel about cleaning.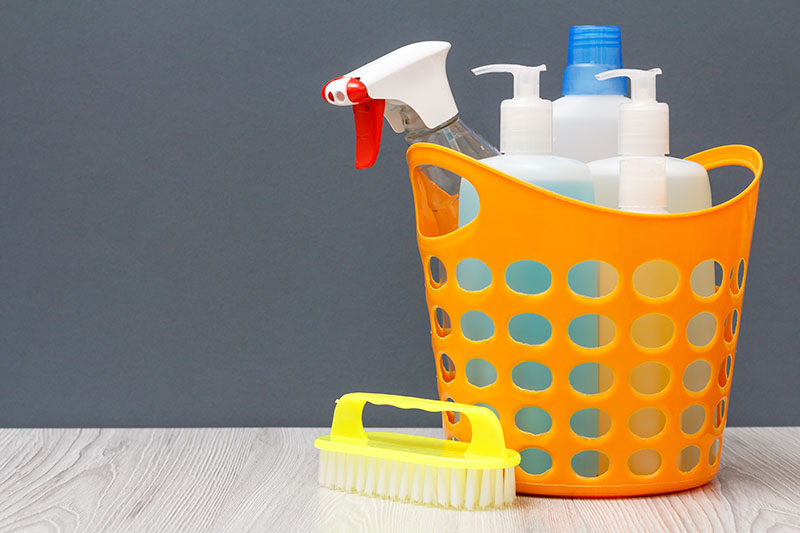 Cleaning supplies can be tough to keep organized and in place when you don't have the right accessories to help keep them that way.  But when they're where you need them when you need them, it sure makes cleaning faster and easier.  Here are some of the best ideas to organize your space.
Not sure what all products and tool you need?  Check out our Essential House Cleaning Supplies List.
1. Wall-Mounted Cleaning Supplies Hanger
A little wall space can go a long way when it comes to organizing. whether its inside a closet or on a wall in the garage, the vertical area is perfect for tall items like brooms and mops.  A wall organizer can accommodate other supplies like hanging brushes or bags of cleaning cloths  Plus, you don't need a lot of depth, so a wall-mounted holder can even be tucked behind a door.
2. Cleaning Supplies Tote Bag
If you want your supplies to be in arms reach at all times, consider a tote bag designed for capacity and convenience.  A tote is more flexible than a hard-body caddy.  It should be made with durable fabric that will stand up to use and be easy to clean.  A good tote has lots of space and pockets to store supplies and a handle as well as a shoulder strap.  Carry the organizer bag with you or even wear it while you clean. 
Caddies and totes are sometimes called by the same name, but for our purposes a caddy has a hard plastic body with a handle and may be divided into compartments.  They are another great way to carry supplies with you, or even store what's needed in different areas of the house.  For example, you could have a kitchen cleaning caddy and a bathroom cleaning caddy.
4. Hanging Shoe Organizer
Although designed to store shoes, these organizers are a great option to store cleaning supplies.  Hang one on a wall or back of a door and you'll have lots of individual storage compartments.  Other benefits include the fact that containers stay upright, the plastic is easy to clean, you can see everything at a glance, and you've got easy access to all the items in the organizer.
This is a super versatile and flexible way to organize cleaning supplies.  Not only is it a great use of wall space, but it's easy to use.  You can find hooks, baskets, and other pegboard accessories ready made to create exactly the setup you need.  Whether it's a small area or an entire wall, you can customize it to fit your space.  And you can even paint it to match your decor.
A lazy susan (or turntable) makes items more accessible, especially in a cabinet or shelf with limited space to "reach over and around".  With a spinning tray there's no need to reach, just turn to find what you want.  Under a sink or on a deep cabinet shelf are common places where this accessory is is a great addition.  They're available from small to large, and some even come with high sides and partitions.
Rods use vertical space that is often overlooked when organizing.  They're inexpensive and are useful for hanging bottles, gloves, cloths, and other cleaning tools.
Tension Rods are easy to install and don't require anything permanent like screws or glue.  But they are limited in the amount of weight they'll hold, and can be knocked down accidentally.
Towel Bars are usually applied with screws or a strong adhesive and are more permanent.  But they hold more weight and can be placed on the inside of a door.
Keep multiple items contained and in place with easy-to-clean bins.  They come in many different sizes and some are even stackable.  Organize by type of product and then label for easy identification.
There are lots of different types of hooks and they can be a simple but effective organizing solution.  Think about how you can store a dust pan, broom, scrub brush, mop, duster, and more from a hook.
If you don't have any unused storage space, try creating some.  A small cleaning cart can provide a good amount of storage with a small footprint.  
11. Over-the-Door Utility Rack
Don't have an entire closet to spare?  Try a utility rack on the door as a cleaning supplies holder.  This is more structured than a shoe organizer and will hold different sizes and shapes of products on its sturdy shelves.  
Top Tips for Cleaning Supplies Organization
In addition to having good accessories, there are some basic strategies that will make staying organized easier.  Follow these tips to avoid common problems.
Reduce products so there's less to organize.  If you have an overabundance of cleaning products, go ahead and use up what you have.  But don't replace everything once it's gone.  Streamlining the number of products you use will save time, space and money.
Declutter regularly.  Be sure to throw away empties promptly and weed out items that you know you're not going to use.
Keep safety in mind.  Always be mindful of the dangers of cleaning products.  Make sure no children, pets, or vulnerable adults can access them.  And keep all house cleaning safety a priority.
Use sturdy containers that are easy to clean and won't rust or be ruined.  Wicker, fabric, and other decorative holders may look pretty, but put practicality first when you're organizing supplies.  Accidents happen, things spill, containers leak.  Be sure to use storage holders that won't let liquid soak through.
Decide where to keep your supplies.  You may want a caddy on each floor.  Or a kitchen cleaning supplies kit for your kitchen cleaning checklist and a separate one for the bathroom.  Or you may want to keep them all in the same closet.  There are pros and cons no matter what you decide, so think through which organization style will work best for you.
If you keep all your house cleaning supplies in one area, arrange them by use.  In other words, group your dusting items together and your floor cleaners together, etc.  This will make it quicker and easier for you to find exactly what you need.
Have a system for cleaning rags, sponges, mops, and other tools.  Develop a regular plan for how and when to clean your cleaning tools.   These little details can easily go by the wayside unless it becomes habit.
Having organized cleaning supplies makes housework just that much easier and quicker.  With some simple strategies and a few inexpensive accessories (maybe even things you already have), you will feel the difference.