The less you have to think about what to clean and when, the better.
But there's a lot to remember.
Are you hitting all the tasks you need to, or is something falling through the cracks?
And what about the tasks that don't need to be done every week,  or even every month. How do you remember those?
House cleaning checklists of course!
Free Daily, Weekly & Monthly Cleaning Checklist Set
★ Popular Download ★
4 prefilled sheets + 1 blank sheet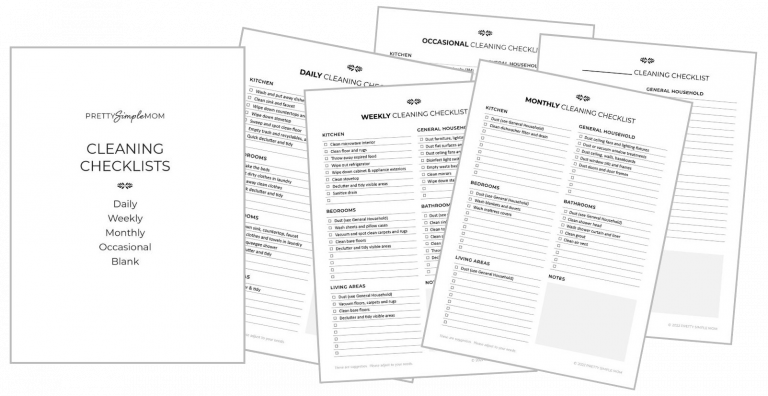 Keeping your home consistently clean means that some tasks end up being done every day.  Many of these center around the kitchen and bathroom, where it's important to keep things sanitary (see our kitchen cleaning checklist and bathroom cleaning checklist).  Others are important to keep a sense of order instead of chaos as we go about our daily activities.
Wash & put away dishes
Clean countertops
Wipe down & clean kitchen sink and faucet
Wipe down stovetop
Sweep & spot clean kitchen floor
Empty trash & recycling
Wipe down bathroom counters, sinks, faucets
Make the beds
Tidy clutter hotspots
Weekly Cleaning Checklist
Not everything needs to be cleaned every day (thankfully!).  Some cleaning tasks can be done on roughly a weekly basis.  Remember this is personal, so your schedule may vary.  But this list is a good place to start until you find what can be done more or less often.
General dusting
Clean kitchen appliance exteriors
Wipe down kitchen cabinets fronts
Sanitize kitchen drain
Empty expired items from refrigerator and freezer
Clean microwave interior
Vacuum and clean floors
Clean trash area & wipe out bins
Declutter & tidy visible areas
Clean showers, tubs, toilets, counters, sinks, faucets, mirrors 
Shake or wash rugs
Empty trash & recycling
Monthly Cleaning Checklist
Monthly cleaning tasks can be tricky to remember because they're less frequent.  Deep cleaning your house is much easier to do if you keep up with it consistently. So having a list of tasks and adding them to your regular cleaning schedule is an easy way to stay on track.  
Extended dusting
Wash blankets, mattress covers, comforters and duvets
Launder washable rugs
Wash shower curtain and liner
Clean dishwasher interior
Clean washing machine and dryer interiors
Clean mirrors