The less you have to think about what to clean and when, the easier and simpler it will be. A routine is key to getting house cleaning done in manageable chunks.  But even then there's a lot to remember.  Are you hitting all the tasks you need to, or is something falling through the cracks? And then there are items that don't need to be done every week,  or even every month. How do you remember and schedule those tasks? A house cleaning checklist list of course!
My Daily, Weekly & Monthly house cleaning printables are designed to give you a simple way to know what you need to do and when.
There are two different formats to choose from (or use both!).   
Both formats have the same pre-filled tasks. 
Both formats include both pre-filled and blank versions. 
Each sheet lists common general cleaning tasks and tasks for each type of room (Kitchen, Bathrooms, Bedrooms, Living Areas).  On the pre-filled sheets, there are some empty spaces for you to fill in your own items.  The blank sheets allow you to completely customize your cleaning lists.
The Compact Layout is great if you want to see at a glance what's been done and what hasn't.  Keep them in a binder or post them in a space where you can check things off as you go.  These are handy for getting the family involved with house cleaning.  Each member can see what needs to be done and contribute to the cleaning effort.  Different color check marks can be used for each person to keep track of chores or earn rewards.
Because of the format, you can use one Daily sheet for up to 14 days, one Weekly sheet for up to 13 weeks, and one Monthly sheet for up to 12 months.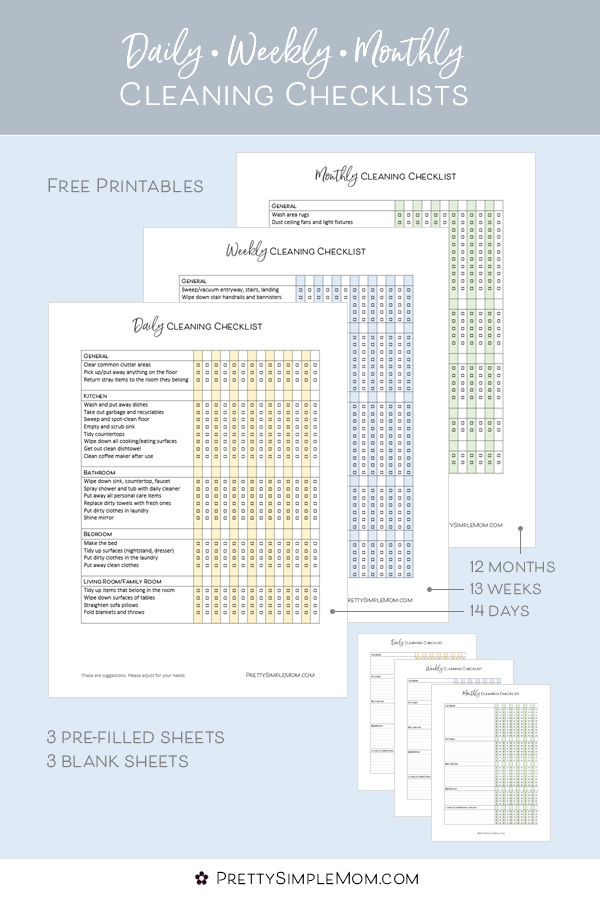 The Expanded Layout is designed to give you a list for reference, but not necessarily to check off every time you complete a task (although you could).   You can also keep these in a binder for easy access.