It would be great if we only needed one product to clean everything in our home.  But let's face it, we're not there yet.  I like to strike a balance between using products that really do their job well while still minimizing the number of items I need to keep in stock.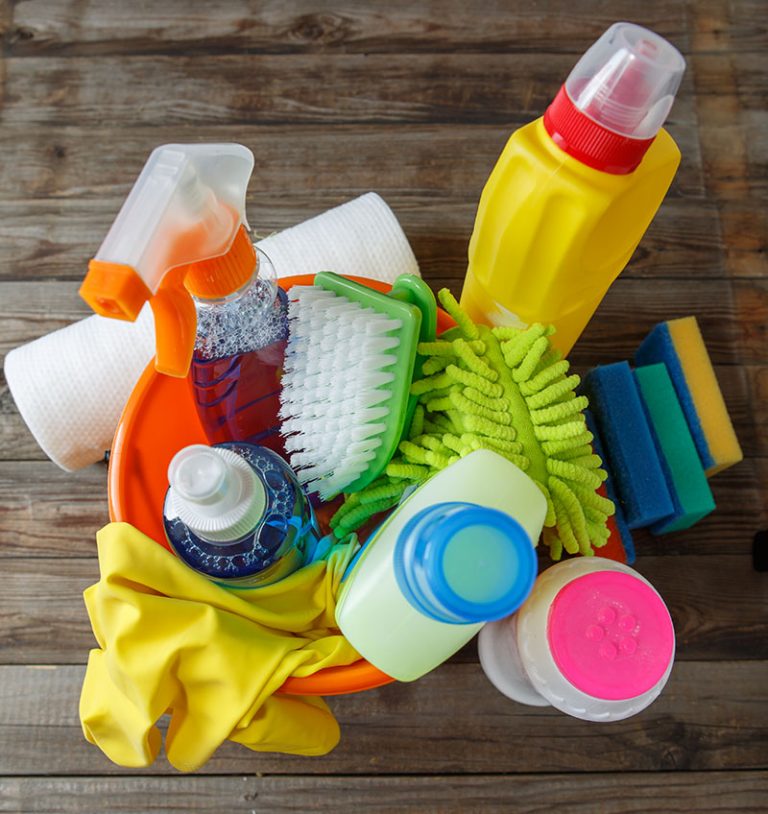 You've got a solid cleaning routine in place and good house cleaning checklists to work from.  Now let's be sure you've got everything on hand for the next time you're deep cleaning your house or doing spring cleaning. 
You may not need or want to use every category of product on this list, but be open to trying something new.  I've highlighted some highly-rated products if you're interested.
Baking soda & Vinegar 
No home cleaning products list would be complete without these two items.  They're inexpensive and effective for so many cleaning jobs.  Always keep them on hand, and use whenever possible in place of a manufactured cleaner.
Glass cleaner
For windows, mirrors, glass items, and many types of surfaces.
Rug/carpet stain remover
You'll want something handy for everyday messes like spills and pet accidents, plus a formula to use in your (or a rented) carpet cleaner.  Always be sure to test a new product on a small, hidden area before diving all in.  And read product directions carefully.  Rugs and carpets are expensive!
Fabric cleaner
Treat fabric stains as soon as possible.  Keep your fabric cleaner handy so you don't have to search for it when the inevitable happens.  Also, test on a small, hidden area before you really need it, just to be sure it's going to work well on your unholstery.
Furniture cleaner & polish
Not everything that needs to be dusted is wood, and not all wood needs to be polished.  You may need a combination of products.
Mr. Clean® Magic Erasers
I think *magic* is the perfect word for these. What can't they clean? And now there are even more options targeted to different cleaning jobs.
Disinfectant wipes
These are a convenient way to disinfect just about any surface.  Great for a quick clean, anytime.  Sometimes it's all you need.
All-purpose spray cleaner
An all-purpose cleaner helps to streamline the number of supplies you need. A good one will be safe for almost all surfaces and great for many uses.
Toilet bowl cleaner
Toilets need to be cleaned and disinfected often.  Most people would rather skip right over this job, but there are good cleaners that do most of the work for us.  This is one of those tasks to let sit, go do something else, and come back when the cleaner has done it's job.
Liquid dish soap
Even dishwashers haven't made liquid dish soap less necessary.  It's mild, versatile, and can smell really great. A good dish soap will cut through grease easily yet not leave your hands irritated.  It should also be safe for most surfaces and materials.

Oven cleaner
Keeping an oven free of baked-on splashes, splatters and spills is a challenge.  And oven cleaners are some of the most noxious cleaners in the home.  Try to find a "fume-free" version that works.
Tile & grout cleaner
Clean tile and grout can be a beautiful decor feature.  But keeping them that way definitely requires regular attention plus the right product.
Looking for less toxic cleaning alternatives?  You'll find those and other
easy eco-friendly living
information at Finding Your Green Life.
Vacuum 
Different models are good for different jobs, so you probably want to have more than one.  The more convenient the tool, the less resistance you'll feel toward using it.
Broom & dustpan
Sometimes you just need a good, old-fashioned broom, but it helps to know what broom types work best.
Mop
Mops are another tool that you many want more than one of.  It really depends on the finishes in your home and your cleaning habits.
Extended handle duster
No need for a step ladder when you can easily access those hard to reach areas like lighting fixtures, ceiling fans, high walls, or tall bookshelves.
Microfiber cloths
Rubber gloves
Protect your skin and make cleaning less icky.  Gloves are a must.  I really like to buy pretty, colorful ones to cheer up the process a bit.
Bucket
A good bucket makes lots of jobs easier.
Caddy
A well-stocked cleaning caddy can be a game changer.  It's one of the easiest ways to organize cleaning supplies. You'll be more efficient because you won't be spending time looking for where you left supplies the last time you cleaned.  Plus it will be easier to know when something needs to be replenished.
Toilet brush
You'd think that something as simple as a toilet brush wouldn't have many options.  But you'd be surprised.
Toothbrush
Another have-to-have tool for when a little elbow grease is called for.  It will be your best friend for cleaning nooks and crannies.
Squeegee
You may initially think a squeegee is only useful for windows or shower walls.  But there are more ways it can come in handy in your home.
Scrubbing Sponge
Scour without scratching when you need a little bit of texture to get something clean.  So useful all around the house.
Having the right tools and cleaners on hand is half the battle of cleaning your home.  You may need to experiment a bit to find the combination that works for you, but be open to trying something new.  There's always room for a new item that makes your routine faster or easier.