Spring Cleaning Tips help you get to the goal of a clean, refreshed house faster and easier.  This list highlights some great ideas.  Hopefully at least some of them are new to you.  The best tips for spring cleaning are simple, inexpensive, and have the potential to make your life a little bit easier.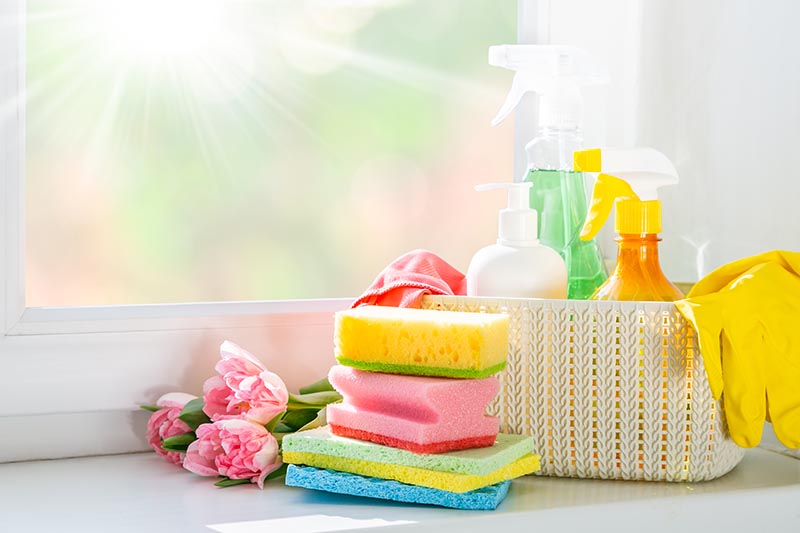 We're all looking for ways to clean faster, easier and more efficiently. Whether it's spring cleaning tips, tricks and hacks, or another time of the year, working through any of our other house cleaning checklists.   Whatever season it is, give these ideas a try.
1. Clean windows on a cloudy day.
Windows are one of the first things we think of when it comes to Spring Cleaning.  By now they've accumulated months of dust, dirt, smudges, and grime, both inside and outside. And since this is a job that you don't do very often, it's worth taking a little extra time to do it well.
Cleaning your windows on a cloudy day has at least 2 advantages.  Whatever cleaning agent you're using is less likely to dry as quickly and leave streaks that you need to go back over.  And also, it's easier to catch streaks and areas that were missed when you don't have full sunshine on the glass.
Combine this with a microfiber cloth for a streakless, lint-free, clear-as-day view.
Spring Cleaning is about deep cleaning.  But what if steam cleaning or shampooing your area rugs isn't on the agenda?  Your normal routine probably includes vacuuming them.  Let's take that a step further.
After you've vacuumed a rug, turn it over and vacuum the underside as well.  Then turn right side up and vacuum the top again.  Short of a steam clean, this will help remove the maximum amount of dirt.
As a side note, for year-round inspiration, grab our deep house cleaning checklist.
3. Shine a light on the dirt.
Dust and dirt can be sneaky.  One minute you see it and the next minute you don't.  That doesn't mean it's not there.  It's just that lighting and perspective have a lot to do with how easy it is to spot.
Using a flashlight (a darker room, not in bright daylight, works better here) and looking at an area from different positions will show you what can easily escape detection otherwise.  
4. Use a pillowcase to trap dust.
Ceiling fans can gather a lot of dust and dirt on their blades.  One day we look up and wonder how to get it all off without it snowing down all over the room. Normally this is done with a ladder and dust cloth, or a microfiber pad on an extendable pole.
But here's another option.
Pull an old pillowcase around one whole blade.  Then hold it against the surface as you pull it along the length of the blade.  The majority of the dust will end up in the pillowcase instead of the furniture or floor.  Repeat for each blade.
5. Multitask that lint roller.
Disposable, adhesive lint rollers are an underused and underappreciated cleaning tool.  Of course they work for all types of clothing, but let's go beyond that.  This Spring, take advantage of more ways they can make cleaning easier. 
Here's a quick list.
Fabric lampshades
Window treatments
Upholstered furniture
Broken glass
Crumbs and debris in drawers
Dead bugs 
Hair on bathroom surfaces
Kids' car seats
6. Cleaning gel for tight spaces.
It might be made for car detailing, but the ability to pick up dirt and grime makes it perfect for lots of household uses too.  Because it can mold to any shape, you can use it in small and awkward spaces. 
Here are some ideas:
Window frames
Recliner cup holders
Drawer inside corners
Garbage disposals are workhorses in the kitchen.  They do their job grinding up all kinds of food waste, of every texture you can think of.  So it's no surprise they need a good cleaning on a regular basis.  But how to get build up off those blades?
Lots of ice cubes.  Fill the bottom of the sink with ice cubes and run them through the disposal with some water to dislodge and wash away the build up.  Then cut up a lemon and put it through the disposal to refresh.
You can vacuum and vacuum, but it won't get all the dirt out of your carpet.  Especially pet hair.  It just seems to stick like a magnet. And when we see how much is left, it can be a bit shocking.  So what to do?
There's a simple, inexpensive tool that extracts pet hair like a champ.
Use a dry household squeegee on your carpet.  Pull toward you in short strokes, and repeat as needed to gather remaining hair.
Whether channeling air conditioning in the summer or heating in the winter, our air vents are a prime place for dust to collect.  Not only does it look bad, but the trapped allergens it contains can affect your family's health. 
SomewhatSimple.com offers an easy solution to clean them more easily and keep them that way longer.
The secret?  Applying a layer of car wax.  Read more here.
10. Use your dishwasher for more than dishes.
This list wouldn't be complete without a mention of using your dishwasher to clean more than just dishes.  It's such a time-saving idea.  Instead of hand cleaning dozens of small items, you load them up and move on to something else while they're cleaned for you.
Here's a list of items that can be suitable for this great hack.
Bath toys
Dog toys
Exhaust fan filters and covers
Flip flops/thongs
Hairbrushes and combs
Lego pieces
and more
You may have heard of this hack before, but been hesitant to try it for fear of damaging either the items or the dishwasher.  And that's an important point.  Be sure you know what should and shouldn't be put through a dishwasher before trying it out.
Visit Can you wash it in the dishwasher? for lots of great information to answer your questions and prevent mishaps.
11. Re-use that dryer sheet.
A used dryer sheet still attracts dirt.  And it retains some anti-static residue, without the excess coating it had before it was used. 
For these reasons they are good to use for cleaning baseboards and other molding.
Not only will the sheet attract the dirt on the molding, but the slight anti-static charge will help repel dust so that it sticks to the surface less afterwards. 
12. Tennis balls in the dryer.
Washing comforters and bed pillows are both tasks on everyone's Spring Cleaning list.   When we wash them ourselves, though, a common result is that the filling becomes unevenly distributed.  Lumpy comforters and pillows require a lot of massaging to get the insides back in place.
To help avoid this, throw a couple brand new tennis balls into the dryer with the bedding.  They work against the twisting and bunching that causes the fillings to be 
More Spring Cleaning Tips
How can I make spring cleaning easier?
In addition to our Spring Cleaning tips and tricks, one way to make it easier is to have a simple plan.  Start with a Spring Cleaning Checklist and prioritize what you want to accomplish.  Then decide how long it will reasonably take to get it done.  Don't put too much pressure on yourself.  It's common to spread these tasks out over weeks.  Plan roughly what you'll work on and when, then check off when done.
When should you start spring cleaning?
Typically March and April are the big Spring Cleaning months.  But don't let the time of year stop you from getting your home clean and in good shape.  
How do you prepare for spring cleaning?
Get prepared by having a simple plan (see above).  Then be sure you have the products you need on hand.  And lastly, schedule the dedicated time needed to get these tasks done. 
Spring Cleaning is no small task, but it doesn't have to be overwhelming.  Some keys to this are to have a plan, incorporate a few new cleaning tips, and don't try to do it all at once.  There's no such thing as a perfectly clean house, so let yourself feel good about what you're doing.