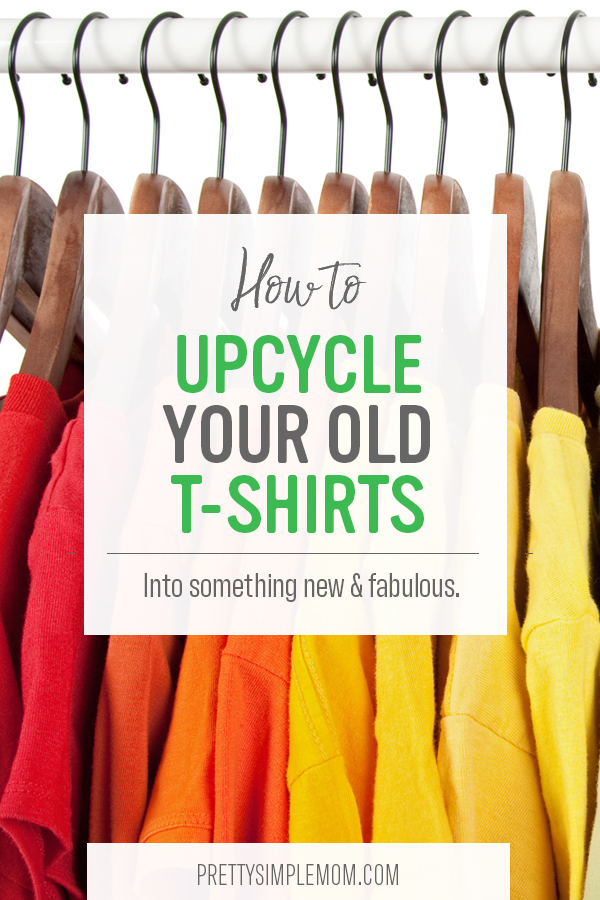 A humble t-shirt can be upcycled into everything from jewelry to accessories to home decor. So if you have old ones hanging around, we're going to give you some ideas you may not have thought of. When you upcycle, you give an object a second life and reduce waste at the same time.  It's a win-win all around.
T-shirts are a great candidate for upcycling because there are a *lot* of them and they are are able to be repurposed in many kinds of ways. Most people,can identify with having a few too many t-shirts in their wardrobe. But what to do with them? And many remind us of fun times we've had and places we've been. Getting rid of items with memories attached can be tough.
So if you're wondering what you can do with some of your spare shirts, and don't want them to simply end up in a land fill, here are some terrific ideas to get you started.
A humble t-shirt can easily become a stylish personal accessory for many different tastes:  fun and funky, simple and modern, vintage and retro. The pictures below are just a small sample of what's possible for bracelets, necklaces, key chains, hair bands, scarves, and more. 
​
Turn your shirts into pretty, reusable, and practical tote bags that have many different uses.
Rugs created from upcycled t-shirts make for a striking addition to a room and for happy bare feet. The three techniques used in the examples below include latch-hooking, using a knitting loom, and braiding.
Decorative Home Accessories
With a little imagination, those old t-shirts can become fun, stylish, and even sentimental additions to your home decor.
T-shirt yarn is the name for long, narrow strips of t-shirt material, loosely rolled, which is used for crocheting and knitting. It's soft feel and slightly chunky, textured appearance makes it popular for many kinds of projects. And even though you can easily find it in stores, it's simple and quick to make from your own spare t-shirts.
T-Shirt Jump Ropes for a Cause
Love this!
T-shirt jump ropes are "easy craft projects that can be donated to Operation Christmas Child". What a great item to include in your shoebox gift donation. You're recycling the materials and donating the new items to kids who will no doubt get a lot of enjoyment from them. That's a true win-win.
Note: I didn't take many pictures of this process, unfortunately. I hope the description helps if you're interested in doing this type of project.
Last Christmas we created a gift for a dear friend from an old t-shirt. I love, love, love to give unique, personal gifts, and this was one of my favorites. There was a bit of learning involved along the way, but now I can share that with you.
The idea had started the previous Christmas when I came across a unique vintage t-shirt on eBay. It had a combination of college football team and cartoon character that was a perfect fit for my friend, and that is hard to find. Even though I didn't know what exactly I wanted to do with it, I knew I'd find some way to turn it into a gift. So I contacted the seller, but he wasn't able to find it in his inventory. Ugh, disappointing. And I wasn't able to find a similar item. So the idea was put on the shelf, so to speak, but not abandoned.
Fast forward to this past Christmas and I still liked the idea. So on to eBay I went again, and this time found an even better vintage shirt with the same elements. Bonus! Once I received it, the question became what to do with it.
I decided that framing would be a good way to display it, but wondered if we'd be able to create the professional look that I wanted. So after some research I found a handful of companies, like Shart, that manufacture frames especially for this purpose. The Shart frames looked great and seemed to be easy to use, but I was hoping to keep my costs a little lower.
Next I looked at several tutorials by people who used regular picture frames. But I wanted to keep the shirt intact, not cut or staple it.
So the final option was a shadow box frame, which is what we ended up using. We cut a square of styrofoam, stretched the shirt over and around the back of it, then placed it snugly into the frame. The styrofoam provided the necessary support and prevented the shirt from shifting around. And there was room for the remainder of the shirt to fit within the depth of the shadow box. It worked out well. I would definitely consider using this method again for a similar project.
We had our fair share of tweaking and positioning to get things just right, but the end product looks great and will stay that way for a long time!