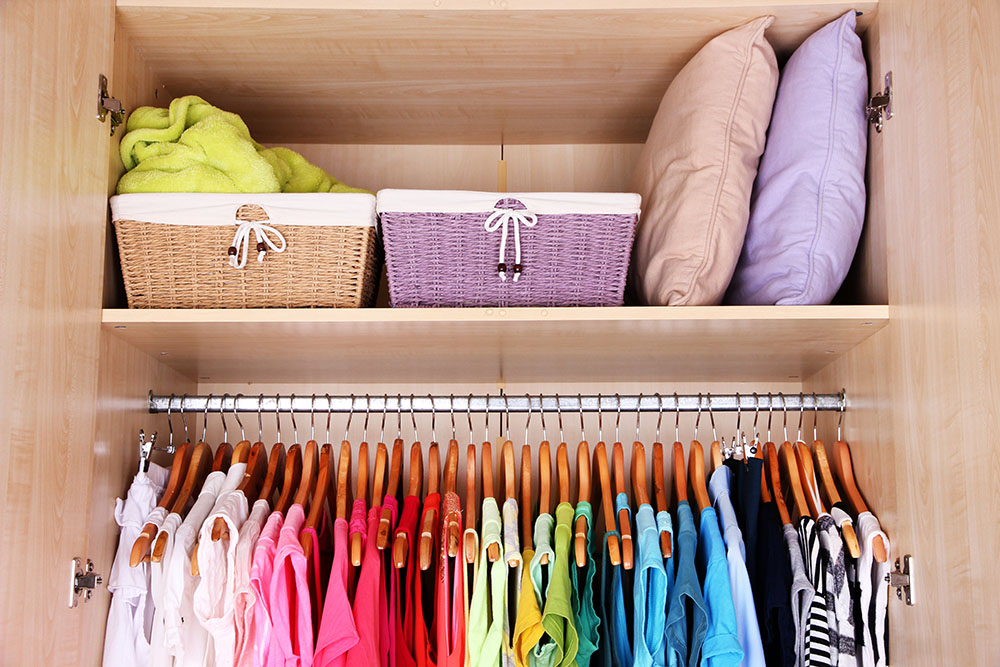 There's just something about a well-organized closet that makes me feel good.  Can you relate?  And if it's pretty on top of being organized, well, can't get much better than that.  As amazing as expensive, upscale closets can be, I love the fact that a lovely, customized closet is still well within my reach with a little imagination and far less money!
FEEL MORE ORGANIZED IN 5 MINUTES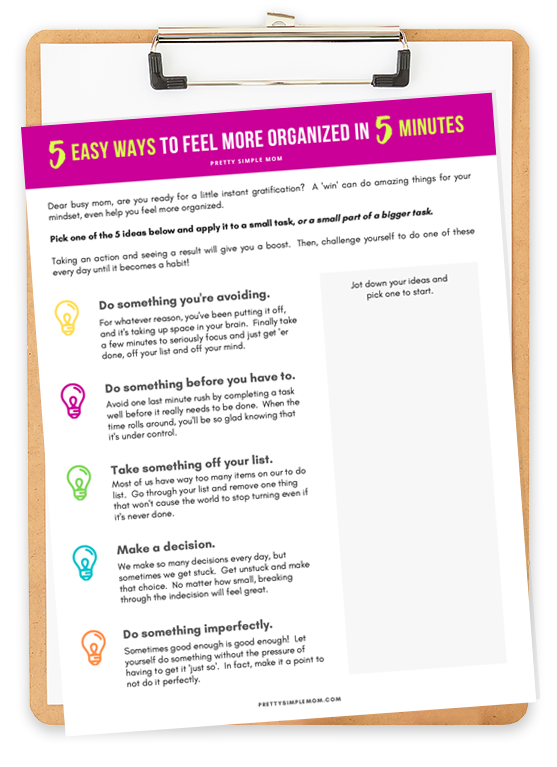 Yes you can!  Grab our free cheat sheet with 5 ways to feel more organized right now.
Easy and Affordable DIY Closet Solutions
Here are some great ideas to get you started on your journey to a more organized, happier closet.  And by happier, I mean how it makes you feel every time you use it!
Hang a DIY Laundry Bag on the Closet Door
The back of your closet door is a good place to keep a laundry bag that will be mostly out of sight yet easy to access.  All you need is the bag and a simple hook, which can be a Command hook, an over the door hook, or secured with screws like the one in the picture below.  Mandi, over at Making Nice in the Midwest, let's us know that making this beauty was super simple … like 5 minutes-ish simple!  What's not to love?
Stylish DIY Storage for Sunglasses
Sunglasses require careful storage to prevent scratching or other damage.  This solution keeps them tidy, in place, and easy to get to.  And you don't need to have a collection big enough for an entire wall.  This  is a great idea that can easily be scaled down for a smaller collection or a smaller closet.  I especially like that the holders are clear acrylic.  It's a clean, uncluttered look that keeps the space open.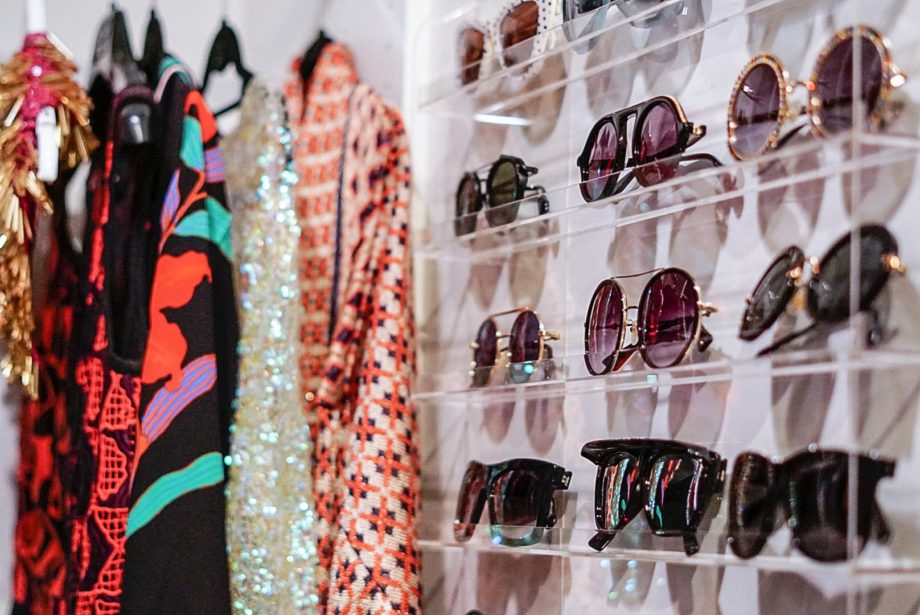 Thread Rack Jewelry Organizer
Whether you have a large or small-ish jewelry collection, the challenges are the same: keeping items from getting hopelessly tangled up, and seeing what you have at a glance so pieces aren't forgotten.  Here's an idea that deals with both of those challenges nicely, and looks attractive to boot.  And if one rack isn't enough you could always add a second one for additional storage.
Create a DIY Scarf Hanger
Scarves can be tricky to store in an organized way.  A scarf hanger keeps them tidy and easy to see so you don't have to rummage through a drawer or box to find the one you want.  This DIY version can easily be hung on a clothes rod or on a closet wall.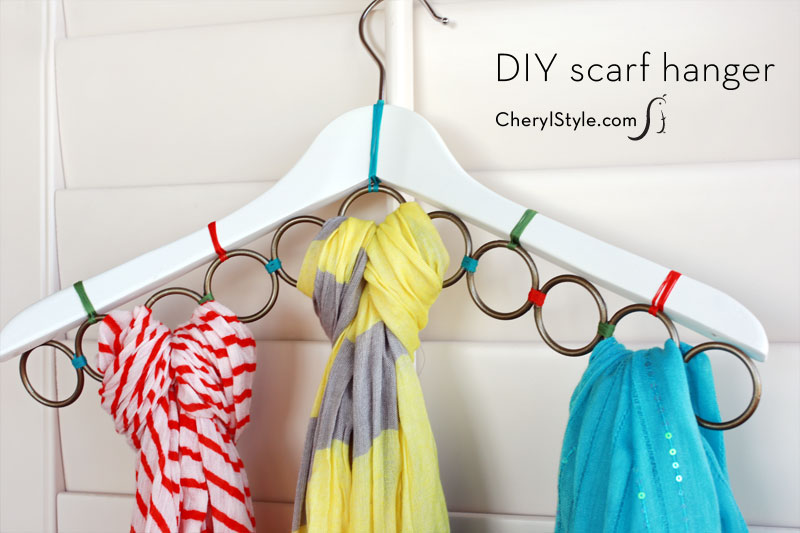 Shelf Dividers for Keeping Stacks Tidy
There are any number of things that are tough to keep upright and tidy on a closet shelf:  a pile of folded clothes, handbags, a stack of hats, etc. These shelf dividers are easy-to-use, and they work with both wooden and wire shelving. If you've ever had a pile of folded (fill-in-your-item-here) topple over in your closet you know how genius these are.  
DIY Labels for Storage Containers
Labels can be really helpful for the whole family, even if you're using clear containers.  The organization you've worked so hard to accomplish will last longer if people don't have to rummage through their closets because they're not sure where things are. And you can easily create different colors and styles depending on who's closet they're for. 
FEEL MORE ORGANIZED IN 5 MINUTES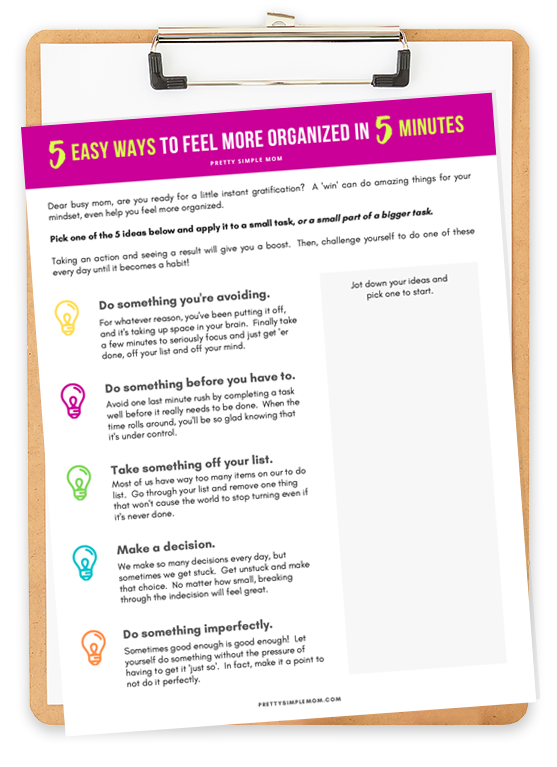 Yes you can!  Grab our free cheat sheet with 5 ways to feel more organized right now.
Pretty & Practical DIY Closet Dividers
Closet dividers are popular for babies' and kids' closets, separating wardrobe items by size or day.  But they also work for adults, especially when we take the time to plan outfits ahead of time.  Dividers add some visual interest to a closet while at the same time making it more organized!
Add More Space to Hang Clothes
Adding more places to hang clothes can make a big difference in your closet organization.  If you only have one rod, but enough closet space, consider adding a second lower rod.  Another option that will add more space to hang clothes is to attach upside-down shelf brackets on the wall (see picture below).  
Organize Shoes with Tension Rods
Tension rods can be used for all sorts of things, but I never thought of using them for shoe storage.  The upside is that they're inexpensive, easy to place, and temporary.  You just need the right type of space.  This idea would work in a closet or really any space, like the small outset shown here.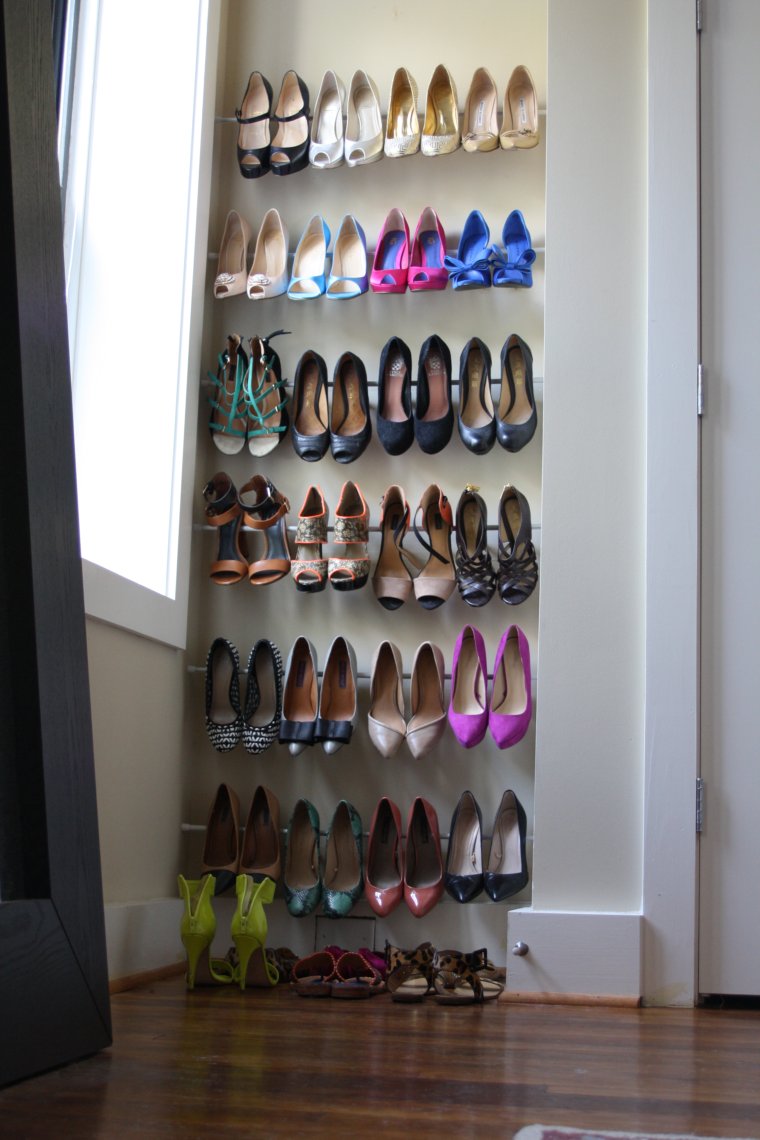 And for flats, sneakers, slippers, etc., just use two rods instead of one.
Hanging Mini-Crates for Lots of Littles
We're always looking for ways to use extra vertical space and here's another idea.  This DIY project was used in a child's closet, but there's no reason it wouldn't work in any type of closet. You can pick up similar small, plastic crates at almost any dollar store.   These give you storage for lots of 'smalls' and I like how they are easy to see and reach into.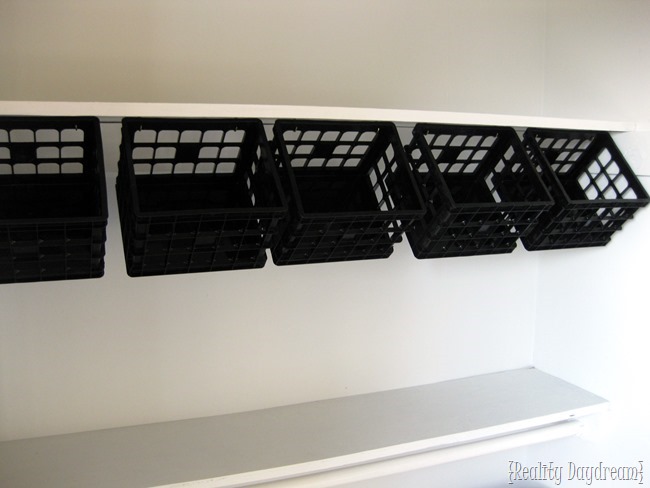 Paint Stick Organizer Project
This DIY jewelry wall made with paint sticks is impressive!  There's a lot of pieces on display here.  Every single necklace, bracelet, and earring has its place. And it also got me thinking about other items this idea could be adapted for, like belts.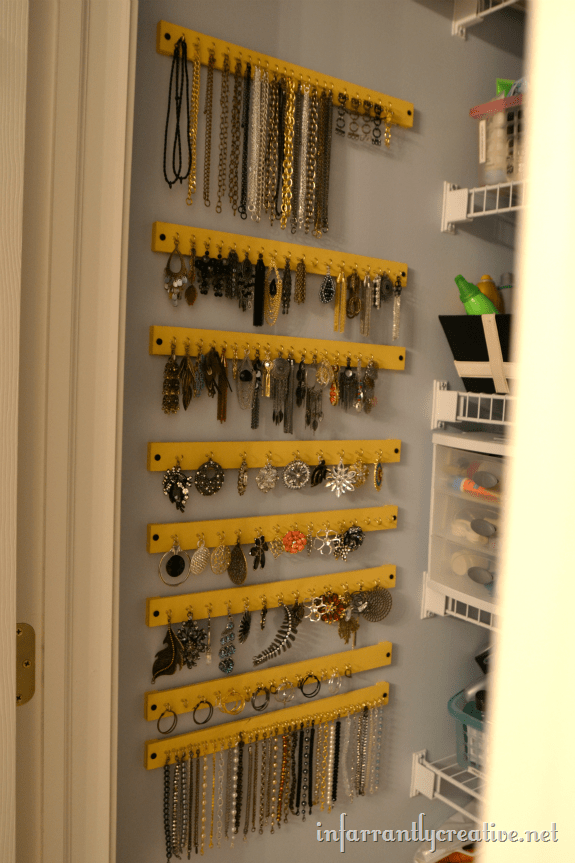 It seems like there's always spare boxes around the house!  Shoe boxes, shipping boxes, cereal boxes, etc. I may not have an immediate use for them, but some are too good to throw away.  Well, go grab a few of yours and use them to organize a closet.  Lids or no lids … whatever suits your purpose.  And cover them with fabric or wallpaper to brighten up the entire closet.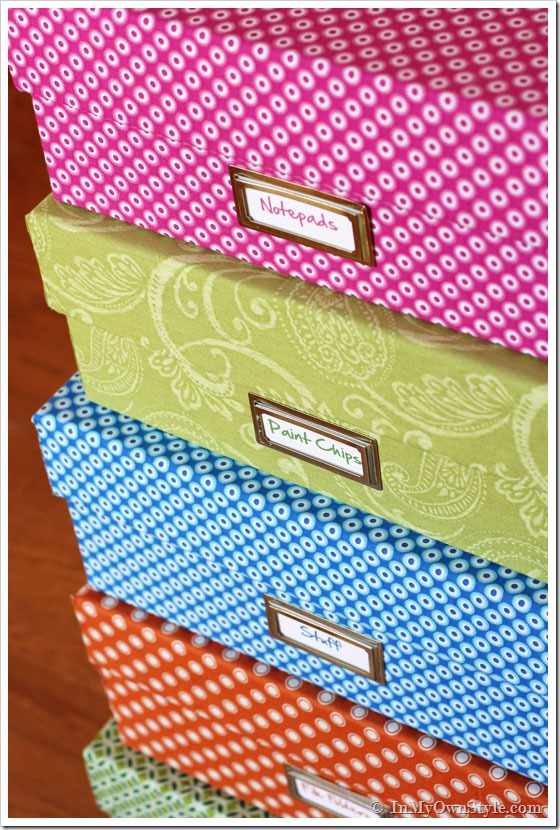 There are lots of way to organize a closet without expensive organizing products.  You can stay within budget and still have a closet you enjoy every time you open it. From using items you already own to getting creative with inexpensive products you can buy, DIY can be simple, effective, and affordable.  Before you know it, you'll have a one-of-a-kind closet you love.
FEEL MORE ORGANIZED IN 5 MINUTES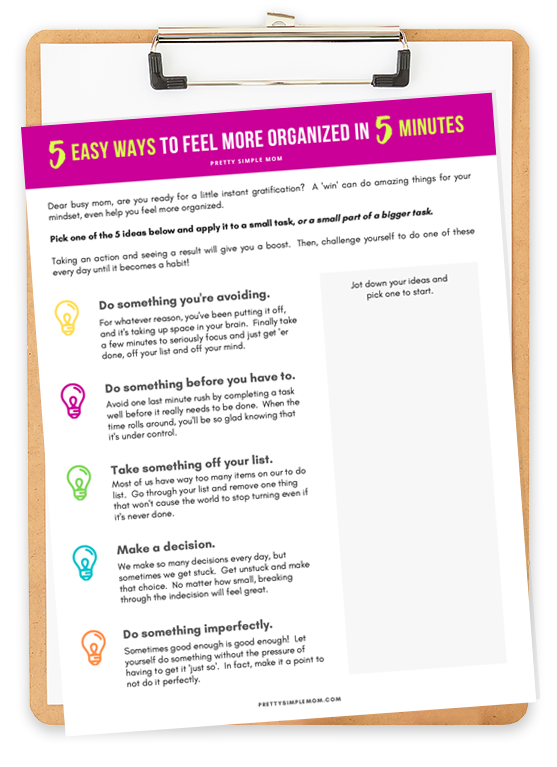 Yes you can!  Grab our free cheat sheet with 5 ways to feel more organized right now.