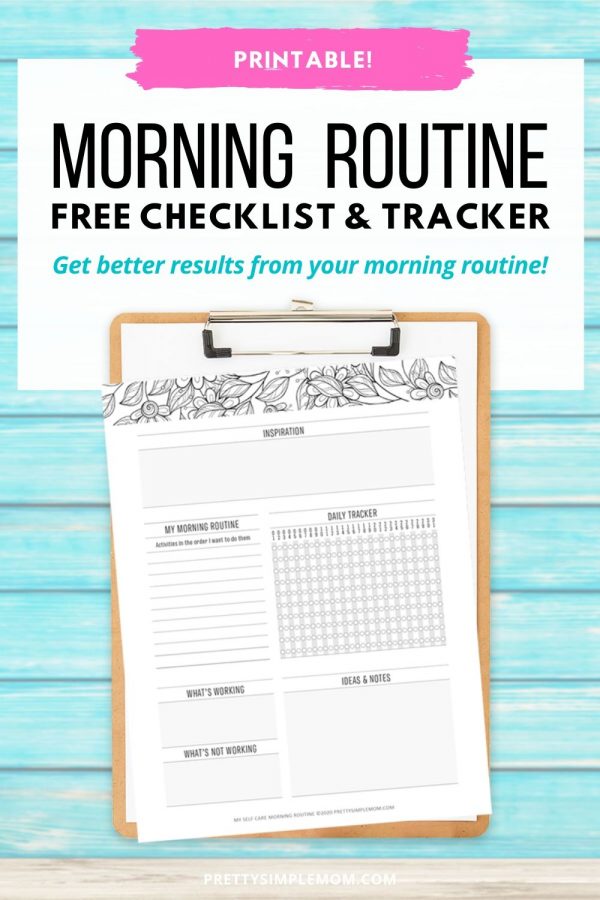 If you don't have a morning routine, you don't know what you're missing.  Let us help you kickstart this great habit with our free printables.  You get better results when you keep track!
40+ Ideas for Your Morning
Routine & Worksheet
Morning Routine Daily
Checklist & Tracker
It's So Easy You Can Start Tomorrow Morning
In 15 minutes you can create your initial morning routine.  That means tomorrow morning you could actually start putting it into practice.
These routines aren't meant to be long, complicated, or tedious.
They need to be simple.  And they need to be flexible.
That's why we've put together this guide.  I want you to just get started, with some direction, but without overthinking.
Our guide will help you spend a little time focusing on your well being before launching into your day.
Moms, we're all tempted to put off the small important things for the big urgent things.  And taking care of ourselves is made up of small, important things.
So self care is our focus.  If it's not done first thing, life will happen and your good intentions will get swallowed up in the day.
Set yourself up to feel good and function better, then tackle all the other tasks that you need to do.
You can expect to reap some of the well-known benefits of good morning routines, such as:
Less stress
Sense of accomplishment
Improved mood
Making progress toward your goals
Being more productive
Your experience will depend on the activities you choose and how consistent you are with them.  
It's best to start slowly, with only a few items in your routine.  Even so, many people notice some pleasant, even unexpected benefits from the very beginning.
And as you continue, you'll find yourself experimenting and fine-tuning your mornings.  
Remember that a morning routine comes with the same potential pitfalls as forming any other habit.  If you begin to feel discouraged, make sure you've given it a fair chance, then consider tweaking your plan.
Our mini guide includes 3 pages.
Instructions
We explain what to do, 1-2-3, to create your plan and use our morning routine tracker.
Ideas & Brainstorming Worksheet
We list over 40 ideas you could include in your routine.  You can use these, or let them inspire you to come up with your own.  There is also an area to write down your ideas, and think through which ones you'll choose and why.
Morning Routine Tracker
OK, this is my favorite part because every inch of the page is so useful. Keep it handy so you can reference it often.  There's a space for inspiration, a place to list and track each task daily, and areas to note various thoughts and ideas.  It's a great tool that will be useful even as your routine evolves over time.
By success I mean that you find a routine that is sustainable, that brings you benefits, and that you wish you'd started sooner!
And I really want you to find this success.
There are sooo many morning routines out there, by and for all types of people.  But the *best* one for you is the one that fits your personality, goals, and lifestyle.  
Tip 1:  Start Easy and Build On Your Wins
The simplicity of the tasks in a morning routine can lull us into taking on too many at once, especially if we're just getting started.  But don't make this common mistake.  It *should* seem too easy to start with.  More is not always better!  Try to relax and enjoy the feeling of being consistent with this new habit.  Allow yourself to experience the small wins first, and then build on that foundation.
Tip 2:  Ask Why
It's a simple question, but a very important one.  For each activity that you consider including in your routine, as yourself why it's worthy of being there and how it will contribute to your bigger goals.  We're dealing with a short amount of time each day and we want to use it for maximum benefit.
Tip 3:  Keep Track
Nothing complicated, just use the tracker in our guide.  If you feel like your routine as not as effective as you'd like, you will know whether it could be lack of consistency or something else.  Also, use the space to keep notes about what is and isn't working, and your thoughts and impressions.  Jot these things down in the moment and you'll have a great record, all in one place, to help you make changes when needed.