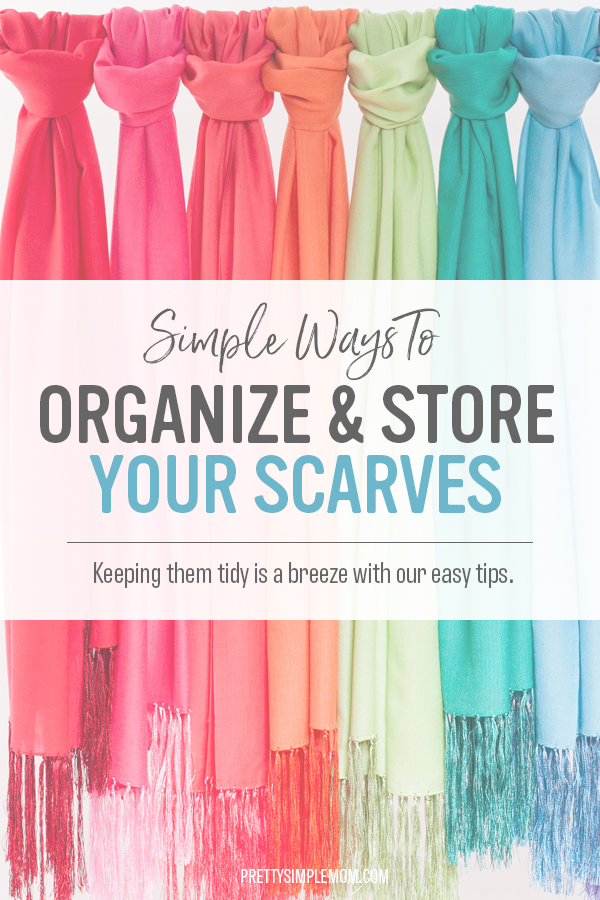 Scarves are a tricky item to keep tidy, unless you know how, then it's a breeze.  Maybe you've tried putting them on hangers or folding them neatly in a drawer or on a shelf.   But before long they are back to that big mixed-up pile again.  It's as if they just don't want to stay put. We'll show you how to store these lovelies so they stay organized right where you want them. 
Scarves are so beautiful!  Don't you just love looking at them?  And they're easy to collect, which is why many of us have an ever-growing collection.
But they can also be tricky to store and keep organized.  So before we talk about the great options for storing our scarves, here are some simple suggestions to manage them and avoid scarf chaos.
Weed out scarves that are worn, unused, or simply don't appeal to you anymore. Tastes change, fabric gets frayed, and we may like something but never use it.  Keep the scarves you really want and donate, upcycle, or dispose of the rest.
If you have a large collection, separate out only the scarves you'll be using for the current season. Keep these in places with easy access, and put the others away out of sight.  
Group your scarves by general type and how you use them.  This will help you decide how much and what type of storage you need. Scarves come in lots of shapes and sizes (square, oblong, wrap, infinity, etc.) and are used in lots of different ways (on the head, around the neck, across the shoulders, as a wrap, as a belt, etc.). Take stock of what you have and use.  A thick, heavy winter scarf will need a different type of storage than a thin, delicate neck scarf.  
Decide what space you can devote to scarves.  It could be drawer space, shelf space, the back of a door, hanging with your clothes, on a closet wall, etc.  You may need to find more space or simply update to a more efficient storage solution.
How to Store Your Scarves
The two methods of storing scarves are to hang them or to fold/roll them. 
Which method you decide to use will depend on the amount and type of storage space you have, and the number and kinds of scarves you have.
Hanging scarves is a great solution because it takes up only a small amount of space, keeps them where you can easily see what you have, and is easy to use.
Fold and drape scarves neatly across a straight surface, such as a hanger.  This is easy and inexpensive to do, but works better with scarves that are longer and made with non-silky material so they're not as likely to slide off.  
Hooks are simple to install, use, and can be found in lots of sizes and styles.  Just be careful that you're laying the whole width of the scarf across the hook, not hanging it on the tip of the hook.
Clips can be used to hold individual scarves, but I would check to be sure they are not causing any damage to the fabric.  And I would not use this method to store or display delicate or expensive items.  
'Knotting' scarves loosely when hanging them over a hook or bar will help keep them in place.
Scarf organizers are designed especially to allow scarves to be hung securely and take up little space.  You can find designs to accommodate smaller, larger, and multiple sizes of scarves.
Highly-rated hanging scarf organizers available at Amazon.com.
23 Loop Metal Scarf Organizer
Designed to hold most scarf sizes.
28 Circle Folding Scarf Hanger
Only soft yarn touches your scarf.
10 Hole Wooden Scarf Hanger
Anti-slip and snag-free.
Storage Organizer Rack Hanger
Easy to slide scarves on and off
Folding or rolling your scarves
​The second way to store scarves is to fold or roll them. 
For this you'll need storage space such as drawers or shelves or boxes/containers.
For heavier scarves with more body, folding can work fine, allowing them to be stacked easily, in drawers on shelves, or in a bin. 
But for scarves with less body, rolling is generally better. If you're storing more than one scarf together, rolling will help keep them from becoming disheveled and mixed up.  Even better is to  store in small individual compartments with a drawer divider.
Highly-rated space organizers available at Amazon.com.
Honeycomb Design Drawer Divider
Size can be cut for a customized fit.
Collapsible Drawer Organizer
48 individual compartments in all.
Foldable Storage Box 
This breathable box will fit nicely in a drawer, on a shelf, or under the bed.
If you opt to come up with your own scarf storage system, there's no shortage of everyday items you can consider using.  Just remember that it needs to be smooth in all areas that come in contact with your scarves to prevent snags.
Keep your scarf collection tidy and in good condition with these simple tips.
Sunlight will cause fading of many scarves, so store them in a dark area or an opaque container. 

Wash your scarves during the season, and also before putting away until next year. 
For very valuable silk scarves, consider this interesting method.

Ziploc bags are convenient and can be a good option.  But beware of odors that can be trapped in the material over time if stored in an airtight container.
Always keep your scarves out of the reach of small children.  They can be a temptation and a safety hazard.