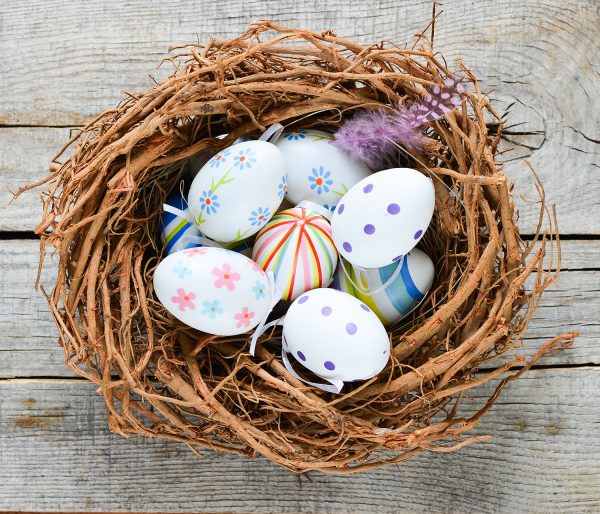 Dyeing Easter Eggs is still as popular as ever.  But it can be fun to expand your creativity with other exciting decorating options as well.  There are so many beautiful examples, and I wish I could show them all to you.  Below are seven no-dye Easter egg alternatives.  You'll be as delighted as I am with the results you see.  And you'll get lots of great ideas to make your own.
Think of an egg like a nice clean sheet of paper.  Who wouldn't want to grab some markers and get creative?
Permanent markers are a really easy and versatile way to decorate eggs.   Most of us have at least some markers in our home, and if not, they're readily available. The ink adheres well to the surface you're writing on and dries quickly, which means your designs won't rub off as the eggs are handled afterward.  Plus, markers are available in lots of colors and sizes for you to work with. 
Kids and adults alike can jump right in and decorate away.
Whether you favor simple designs with romantic colors or a bold, graphic look, you can do it all with markers.  
Special Mention for Moms of Young Children
Eggmazing is such a great idea, it even won a Shark Tank offer.  
It's the perfect decorating tool for kids.  But there's no secret that grown ups have a lot of fun with it, too.
Play the video above to see what its all about and click here for more details.
Paint Pens combine the convenience and familiarity of a pen with the rich, opaque colors of acrylic paint.
Because the paint is opaque, it can be layered with very different results than a permanent marker.  
Acrylic paint pens are a better family choice for decorating eggs than oil-based paint pens for a few reasons.  First, acrylic paint can be cleaned up with water where oil-based paints require a solvent like acetone.  Also, acrylic pens are more likely to be low odor, which is definitely a health factor.  And, finally, acrylic paint dries much faster.
Courtesy of Joy Ever After
Decoupage with Paper (Mod Podge)
Decoupaging, in this case gluing paper to, an egg can create wonderful results, even if you're craft-challenged.  
There are no paint or other coloring agents involved.  Mainly you'll need the paper you want to apply and the glue to apply it with, plus a brush and scissors.  The go-to adhesive for many crafters is Mod Podge.  It's non-toxic, but not food safe, so don't let a little one put it in their mouth.
There are lots of different papers that will work.  Decoupage paper, decorative paper napkins, and gift tissue are a few examples.  You'll have no problem finding lots of patterns readily available in stores and online.  Or maybe you already have some hiding out in your home that would be perfect.
Since applying temporary tattoos only involves a bit of water and a sponge, this is a very low-mess option.
There's no shortage of designs that you can buy and apply, even Easter-themed tattoos. 
But here's where it gets exciting.  You can also create your own with Printable Tattoo Paper (available for ink jet and laser printers). Well, that just opens up the posibilities, doesn't it?  No special printer or other equipment is needed.  
Kids will love this, and so will you.  It's so quick and easy, you'll run out of eggs long before you run out of tattoo ideas.
The soft, flowing look of watercolors is a perfect fit for the blooming Easter season.
You do not need to be a watercolor artist to get great results with these. One of the nicest things about this medium is that it can look beautiful even if you're a total beginner. 
When you think of watercolor paint, you may get a picture of a pallette filled with colors and a brush to apply them.  But there's another way to use watercolors that can create a whole different look. 
Watercolor pencils are really fun to work with, and are low-mess.  If you've never tried them, I'd suggest buying a small first and see how you like them.  You may end up wanting to paint more than Easter eggs.    
Craft paint is so versatile that it's a great option for egg decorating. 
These water-based acrylic paints are available in a virtual rainbow of colors.  And they can be applied with many different tools for different effects:  paint brushes, stencils, dotting tools, even everyday objects like a pencil eraser or sponge, and more. 
Since we're talking about no-dye decorating options, this is the next best way to get a solid background color for your eggs.  A good craft paint will flow on smoothly and provide rich color with good coverage.  Creating a background color can be a nice foundation for several of the other methods, such as tattoos, stamps, or pens.
Rubber craft stamps and ink pads are easy and fun to use, even on the rounded surface of an egg.
It can be simple, like a word or a letter.  Or it can be more complex and detailed.  You can stamp just once, or all over.  Leave the stamp as is, or combine it with another medium such as markers or paint.
Are you wondering how the pressure of stamping will work with delicate egg shells?  Select a 'practice' egg to try several stamps on when you begin.  You'll get comfortable with the amount of ink and stamping motion that works best.
Choose the type of eggs for decorating to match your purposes.  All of the methods we've mentioned can be done on real eggs.  Some will not work as well on craft eggs, depending on the surface. 
My guess is that hard boiled eggs are the most popular when it comes to Easter decorating. 
To be honest, if you're making hard boiled eggs and are planning to eat them, I'd suggest using only food safe dyes for decorating, not the methods on this page.  But if they're just for the fun of it, by all means get as creative as you like. 
And just in case you're still in search of the perfect, peelable egg, here's a method to try.
If you want your creations to have a longer life, you can blow out the contents of your eggs.  This leaves the shell to decorate, but without the inevitable spoilage and bad smell.
If you've never done this before, check out the video below to learn how.
For the longest life and least fragile surface, you can decorate craft eggs.
If you're really putting a lot of time into your Easter eggs, you probably want to be able to display them again in the future.  So you don't want to worry about having delicate egg shells be accidentally crushed.