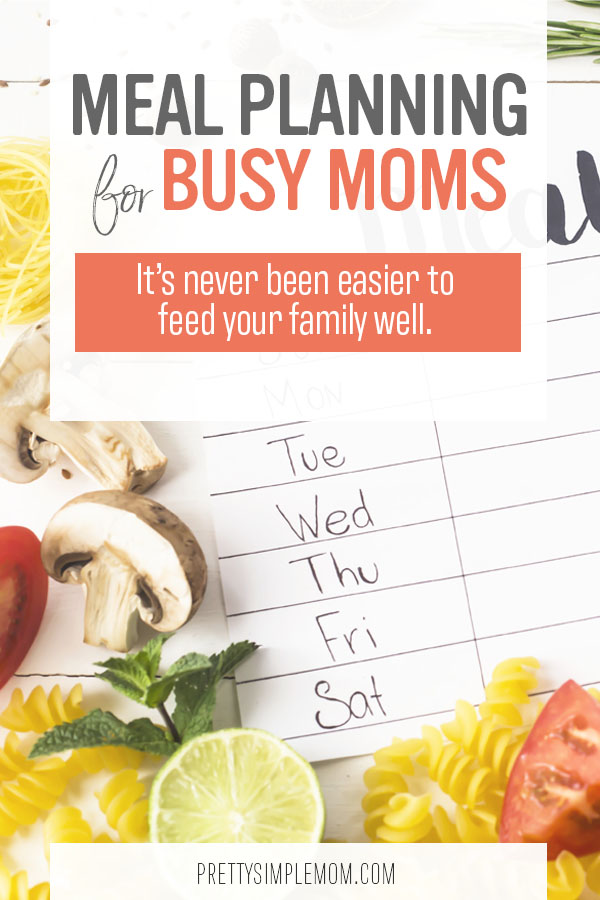 "What's for dinner, Mom?"  No matter how much we love feeding our family, this question can strike anxiety in the best of us.  Coming up with a menu at the last minute is stressful.  Did you know that there are lots of tools and services at your fingertips to make meal planning and cooking simpler?  You're sure to find at least one that saves you time, money, and/or energy.  Read on to learn how feeding your family well can be easier than ever!
Know what you want your meal planning to accomplish.  There are many potential benefits to reap from being more intentional with your family's food. 
There are a lot of options out there to help you plan and prepare meals, so knowing your major goals will help you decide which ones are best for you.  
Here are some of the most common things people want from meal planning:
Save time
Stay within a budget
Lose weight
Eat more healthy
Stick more closely to a particular eating plan
Enjoy more variety and try new foods
Have an answer when your kids ask what's for dinner
and more …
The Main Tasks in Meal Planning
It's really helpful to think about the main activities in meal planning, instead of grouping them all together as one big task.  When we look at meal planning based on these tasks, it's easy to talk about the resources available to help us with each one. 
Selecting dishes and creating menu

Making grocery list

Doing the grocery shopping

Preparing the meal
This is the first step, and for many people the toughest.  Coming up with dinner (or lunch or breakfast) ideas that everyone will like, fit your budget, and work with your schedule can be challenging!
Having a number of dishes that you know your family enjoys is the foundation of a good everyday meal plan.  But those dishes also need to work with your lifestyle and goals.  If you need dinners that are quick to make, don't include that wonderful dish that everyone loves but has you in the kitchen for 2 hours.
Start with what you know.  It's as simple as going through your recipes and making a list of the tried and true winners. 
Having a method for turning your meal plan into a grocery list makes it so much faster and easier. I've found myself carrying several post-its and/or pieces of paper with items jotted down as I wander through the grocery store, trying to remember what I know I'm forgetting.  But it doesn't have to be that way.
Don't be hesitant to think outside the box here and try something new.  I was a pretty staunch paper and pen list maker, but now I love using the online list maker from our grocery store.  There are some real advantages that simply won me over.
Choosing a method that suits you is key.  That could be writing out a list by hand,  using a spreadsheet, using the list maker your grocery store offers, or using an app that creates a list for you.
I think this is a love/hate situation.  Some people love it and others not so much.  You may shop daily, or weekly, or even monthly.  You may go to the grocery store or use a delivery service.
This is a task that you can do or delegate, whichever helps you to reach your goals. Regardless, that well-crafted grocery list from the last step really pays off now in both time and money savings.
Read more about having your groceries delivered.
Let's get real here.  Do you like to cook?  How much time do you have to cook?  Being really honest about these questions will help you create a meal plan that works.  If you cook because you can't let your family starve, but wouldn't do it if you didn't have to, take that into account.  If you like making dinners with 3 or 4 dishes, but you've got a busy schedule, take that into account.
There is the option of having meals delivered already complete and ready to just warm up.  I'll discuss that a little later in this article.
But probably for most of us, preparing and cooking the meals is something we'll be the ones doing.
5 Types of Meal Planning Tools
Now you'll see why I first discussed the four steps of meal planning.  Because there are so many options available to us, we can mix and match how we accomplish each step to really find a solution that works.
Are you most comfortable and work best with a pen in hand?  Well, printables and paper planners designed to get you more organized may be just what you need.
Here are a few basic planning elements that you'll want to have:
Weekly and/or monthly meal calendar
Shopping list
Master recipe list
Inventory lists
Expense tracker
Space for notes
A meal planning app lets you take control of every detail. Organize and manage your menus, recipes, calendars, inventory, grocery lists, and more, with all the advantages of being digital.
They range from simple to having lots of options that can help you take meal planning to a whole new level.  Most are available as apps, with the option of using a website.
Some come with their own database of recipes.
Many are free and others are by paid subscription.
None are one-size-fits-all, so you'll need to find one that suits you.
You may wonder how you ever did without the great features they offer, such as:
Organize your own recipes
Search for recipes based on dietary restrictions and food preferences
Provide nutritional information
Import recipes that you find online
Allow recipe sharing
Generate automatic grocery lists
Create meal schedules
Track items in your pantry
Create food profiles for family members and guests
Here are some examples of standout features:
Deals to Meals "bases its weekly meal plans around the best grocery deals in your area" and claims you can "save up to 70% on groceries WITHOUT using coupons!".
With Yummly you can opt to have your grocery list automatically sent to a grocery delivery service.
And here are a few more popular meal planning apps:
Mealime – "Meal Planning Made Easy"
Plan to Eat – "Gathering Around a Home Cooked Meal Has Never Been So Simple"
Paprika – "Organize Your Recipes, Make Meal Plans, and Create Grocery Lists"
Cozi  – "Simplify How You Get Dinner On The Table"
A meal planning service sends you complete meal plans that they create. It also gives you the recipes and a shopping list, but does not deliver the ingredients (although some, such as eMeals, partner with grocery delivery services).
Take away the stress of deciding what to make for dinner. Instead of finding recipes and creating menus yourself, this option takes care of the up front work for you.
Enjoy professionally created meal plans that cater to your food preferences and pre-made grocery lists to make them happen.  You'll still need to do the shopping and cooking, but won't have to spend hours searching for new ideas.
To get you started, here are a few popular meal planning services:
A meal kit delivery service sends you a complete kit for each meal you order. The ingredients you need to make the dish are included (including fresh meat/poultry/fish and produce) plus cooking instructions.
This option is very popular because it removes the need for grocery shopping.  But you still get to do the actual cooking and experience putting the meal together.
And there are several benefits:
No need to buy ingredients you won't use again
Recipes are designed to be easy to follow
Less waste because ingredients are portioned to only what you need
Reduced prep time
Fresh ingredients
Wide variety of meal options
Easy to try new dishes
A few popular meal kit delivery services:
Sun Basket  – "Enjoy organic produce and clean ingredients. Proud certified organic handler."
Purple Carrot  – "We make it easy to cook innovative, delicious, plant-based meals."
Home Chef  – "Home Chef offers up to 38 weekly choices using Customize It. Mix and match based on your preferences."
A prepared meal delivery service prepares and cooks the meals you order, then ships them to you.  The only thing you need to do is warm them up and enjoy.
You really can't get much more convenient than this.  If you don't have the time or desire to spend on meal planning and cooking, it's the most hands-free option.  Just select the meals you want and have them delivered to your doorstep.
A few prepared meal delivery services: 
Freshly  –  "Chef-cooked, healthy meals delivered to you."
Special Mention: Grocery Shopping and Delivery
Grocery shopping and delivery services are available no matter how you do you meal planning.  It's a time-saving option that is available in most areas of the U.S.
What's better than having your grocery shopping done for you?  Clearly this is a job that lots of people are happy to avoid because the popularity of these services continues to rise.
There are two options in this category:
Delivery directly to your home
Pickup at a retail location
You'll pay a fee, of course, which varies by provider.  But it can still be quite affordable, and will no doubt save you time.
A number of very large companies offer grocery services, but they are not available everywhere.  Be sure to check your local area for merchants that offer them as well.
Popular home delivery services include:
Also, many large grocery chains offer shopping and pickup/delivery, such as:
Walmart
Safeway
Whole Foods
Aldi
Trader Joe's
Costco
Target
Kroger