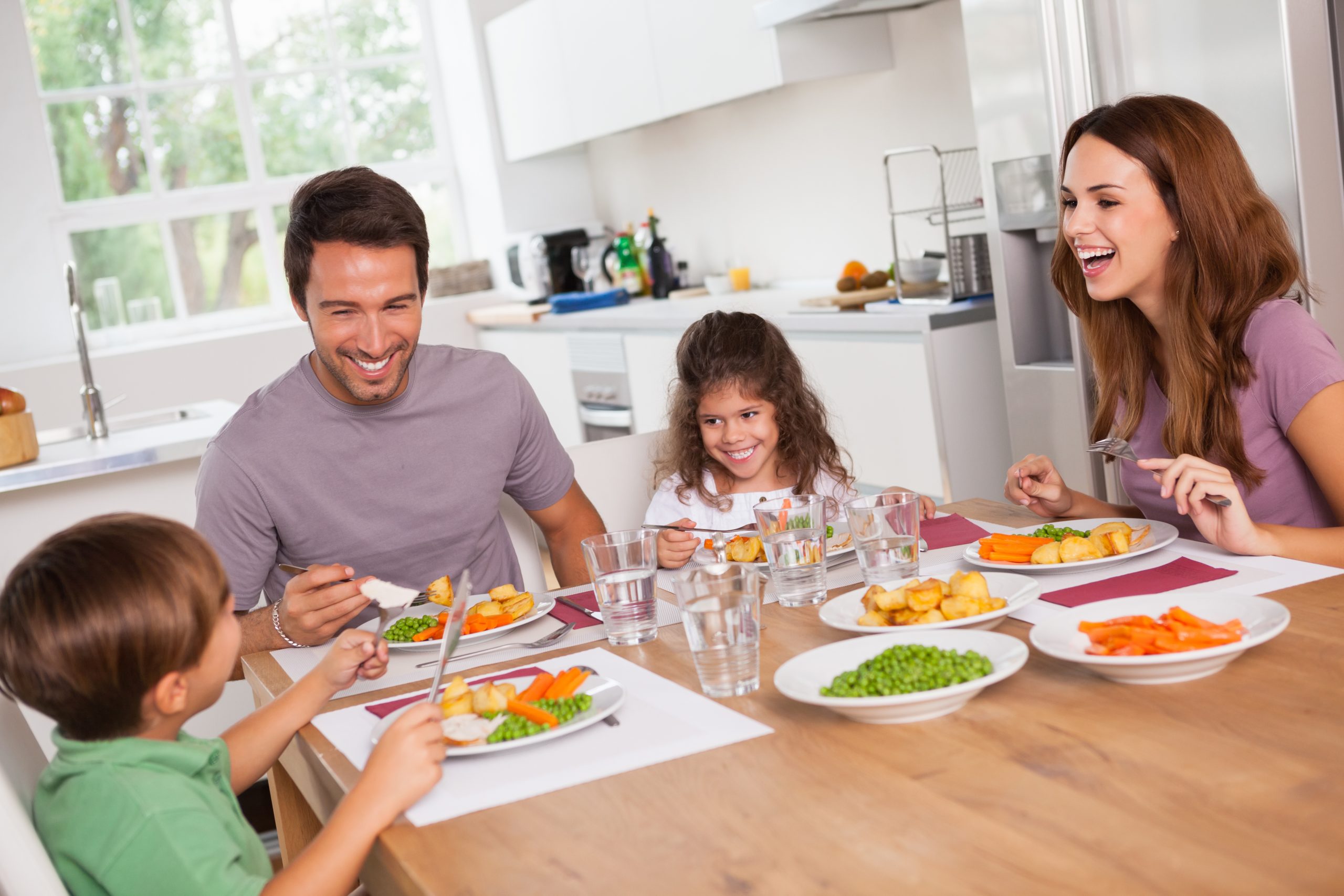 When was the last time you tried a new recipe or searched for new dinner ideas for your family?  I find myself on the lookout for new meal ideas regularly.  But I've also noticed the downside of finding those recipes to try.  Before you know it, you've spent way too long searching through recipe sites, magazines, and cookbooks.  So here are some simple (and some out-of-the-box) ways to quickly find inspiration for family meals.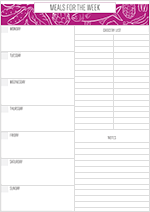 FREE Printable Meal Planner
Planning meals for the week is another way to get organized in the kitchen. Click the button to get your copy emailed right away.
You'll always have new meal options handy when you collect great dinner ideas as you come across them.
There are lots of ways that meal ideas cross our path every day whether we're looking for them or not:  television, magazines, internet, conversations, cookbooks, eating out, and more.  If we take the time to quickly capture some of these ideas, we'll almost effortlessly create a list to refer to when we're in a cooking rut.
Keeping these ideas in one place is key to making it truly useful. 
I can think of several methods to create reminders:  a simple handwritten list, printed recipes in a folder, email recipes to yourself, use a bookmark app, mark as favorites on a recipe site, etc.
Personally, I use several of these methods, but then I like to print out the recipes I think have the most potential and keep them in a folder.  If my family gives the meal a thumbs-up, I can put the printed version directly into my recipe binder.
You may favor a more high-tech method, which is fine as well.  Whatever works best! 
However and wherever you decide to keep your list, be sure that it's handy and easy to access. 
People you know are a terrific source of family dinner menu ideas when you're in a meal planning rut.
We're all so used to our own pattern of eating, that it can be surprising how different other people's eating habits are.  There is a world of ideas you've never thought of.
And who doesn't love being asked for a recipe?  It's actually a compliment!
Ask a friend (or coworker, or neighbor, or family member) to do a swap with you.  Three of their family's favorite dinner menus for three of yours.  Finding new family meal ideas is a pretty universal quest for most home cooks.  So you probably won't have to look very far to find someone eager to try this.
You could also ask people what was the last new recipe they made that was a hit in their home.  If they don't have a quick answer, then ask if they have any dishes that they've been meaning to try.
Do you know someone who's experienced with cooking the cuisine of another culture?  This can be a great opportunity.  For example, my mother-in-law was born and raised in Eastern Europe.  And  I've gotten many ideas from her that I wouldn't have come across otherwise.
Once you begin tapping the people around you for inspiration, your cooking will expand in ways that will surprise you.
Grab ideas for weeknight or weekend family meals from the places that do it best … restaurant menus.
When my family eats out, there's not usually a problem finding something that we enjoy on the menu.  So why not start there and work backwards?
This makes so much sense, I'm not sure why I didn't think of it long before I did.
Take out menus.  Don't we all have a collection of those in our house?
Online menus.  Whether it's your favorite restaurant or one you've only heard about.
Menu-in-hand.  The next time you're eating out, note some dishes or food combinations on the menu that look good and jot them down.
Sometimes its a nice change of pace when dinner isn't dinner.
Recently we had another 'breakfast for dinner' meal, and everyone was excited about it.  Pancakes, eggs, and bacon.  What's not to love any time of the day?
Breakfast
The first meal of the day can be a hearty one, easily hearty enough to be served at the end of the day as well.  Breakfast meats (think bacon, sausage, ham), eggs, potatoes, breads & rolls, pancakes & waffles, cheeses, and more, can be served as usual for a delicious evening menu.
Lunch
Pretty much anything served for lunch can be served for dinner (IMHO).  Soup is a nice choice for a lighter end to the day.  A large salad can be a meal in itself.  Of course, sandwiches of all varieties will work well too.  For a relaxed dinner, recreate a favorite lunch menu and enjoy a simple change of pace.
Put a Spin on an Old Family Favorite
Make a few changes to a familiar meal and you can quickly create a whole new dinner idea. 
Our favorite meals are our favorites for a reason.  Start with the elements you like most, keep them, and experiment with the rest.
Keep the flavors but serve it in a different form.  We do this all the time, when you think about it.  Lasagna, stuffed shells, and stuffed manicotti all share similar ingredients. 
Change up the side dishes.  What you normally serve with rice, try with mashed potatoes or noodles.  Instead of separate meat and pasta dishes, combine them into one.  
Change the flavors but serve it in the same form.  Chicken is a classic.  Pan fried chicken breasts can be changed up with countless different sauces and seasonings.  Hamburgers are another versatile dish.  Try chicken burgers, turkey burgers, or salmon burgers.  And you can come up with plenty of flavor combinations.  Love pot roast in the crock pot?  Try Asian, Italian, Carribean, or Balsamic versions. 
I'm sure you're already coming up with some tasty ideas.  
Get Creative With Leftovers
Work with the ingredients you already have in your fridge, freezer and pantry.
This is kind of fun and oh so practical. 
Whether you're running short on supplies just before a grocery trip, or just feeling adventurous, this tip is for you.  
Go to the Big Oven Leftovers page.
Enter up to 3 ingredients.
Look at the selection of recipes that feature those ingredients.
What a great way to get inspired and use items you have on hand at the same time.
We have so many meal options available to us: the sheer selection of ingredients; almost limitless recipe resources; and services designed to make planning and prep less work.
In spite of this abundance, and somewhat even because of it, coming up with new dinner ideas can leave many of us at a loss.
So the next time you find yourself in a meal planning rut, try one of these easy tips to keep things simple and mix things up.