Sometimes all you need is the right product to solve an organizing dilemma.  It can be big.  More often they are small.  Here's 7 chronic organizing challenges and the products I found that turned them around.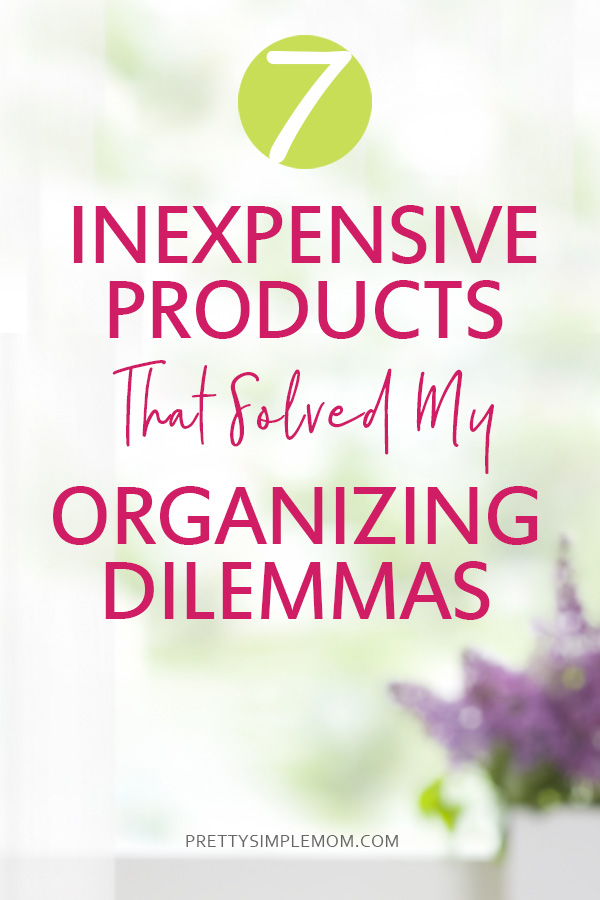 Solution:  Oskar Document Letter Box
My filing system includes keeping two categories of paperwork: (1) items that require action, and (2) items that are ready to be filed.  This system works well for me, but I wanted to find a way to keep the two categories of papers in place and out of sight.  
I ordered a couple of these document boxes on a whim and was so happy with the quality that I ordered more.
Problem: Cluttered Counter Behind Kitchen Sink
Solution:  KOHLER Over-the-Sink Rack
I used to store dish washing items on the small counter space behind the kitchen sink: dish detergent, Dobie cleaning pads, bottle brush, etc. But even when it was tidy, it always looked a bit cluttered.
Enter this over-the-sink caddy.  It changed the look and functionality of our sink area for the better and I wish I would have found it sooner!
Problem: Multiple Boxes of Teabags
Solution:  mDesign Stackable Tea Bag Holder
If you like tea, it's hard to limit yourself to one kind.  And even if you don't love tea, it's great to have on hand when guests visit.
I have boxes of different kinds in my cupboard, from caffeinated & decaffeinated, to herbal, to specialty blends.  This meant finding and opening the right box every time I made a cup of tea.
But now, it's simple and convenient to grab the right bag, or to offer a selection to guests.
Problem: Messy Spice Drawer
Solution: YouCopia SpiceLiner Drawer Organizer
After a recent move, I went from storing spices in a cabinet to keeping them in a drawer.  Since this was a change for me, I went looking for products to help make the most of the space.
What I found were these liner strips designed to keep spice bottles in place and not rolling and bumping into each other while you're opening and closing the drawer.
I'm now getting used to having a spice drawer and liking it.
Problem: Keeping Binders Upright and In Place
Solution:  Onyx Vertical Desktop Organizer
I love using binders to organize.  And with homeschool, business, and personal items to keep in order, I make use of lots of them. 
What I don't like is how awkward binders are to store.  I tried stacking them, standing them, and bookending them but each method had its drawbacks.
That is why this vertical organizer is one of my absolutely favorite organizing tools!  It completely solves the problem of what to do with binders.
Problem: Shoes Piling Up In the Entryway
Solution:  Shoe Rack for 18 Pairs
We had an ever-present pile of shoes just inside our front door, which then became a pile of shoes inside our front closet.
Although we considered other shoe storage solutions, they weren't going to come close to solving the dilemma.
But this rack made a huge difference simply because it holds so many pairs of shoes while taking up a minimum of floor space.
Problem: Using the Space in Deep Corner Cabinets
Solution:  Copco Non-Skid Lazy Susan Turntable
You can't have too much cabinet space, and many of us wish we had even more.  So when it came to our deep corner kitchen cabinets, I had to find a way to use the space and make it practical.
A lazy susan was the obvious choice, but this one had to be large and turn easily even while supporting the weight of lots of items.
The one I found has done the trick and given me three cupboards of space that would have been frustrating and inefficient otherwise.